The Art of Food Photography: A Master Class with Mark Floro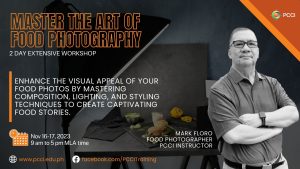 Are you passionate about food and photography? Do you dream of capturing mouthwatering dishes that not only taste delicious but also look absolutely stunning? If so, we invite you to join us for an unforgettable Food Photography Master Class with Mark Floro!
What will be covered
During this immersive Food Photography Master Class, you'll have the opportunity to:
Learn from the badass oldie: Mark is a seasoned food photographer with a wealth of knowledge and experience. Worked with [San Miguel, Nestle, Chow King, Jollibee, Red Ribbon, Greenwich, Burger King, Tokyo Tokyo, Shakey's, Manila Peninsula, URC, UFC, Pizza Hut, Lucky Me, Unilever]. He will share tips, tricks, and techniques for capturing food in its most photogenic form.
Hands-on Practice: You'll have the chance to put theory into practice with guided photo sessions. Bring your camera or smartphone, and we'll provide the food styling and setups for you to photograph.
Composition and Styling: Discover the art of composition, lighting, and styling that can make your food photos stand out. You'll learn how to create captivating food stories through your images.
Critique session: 2nd day will be critique day of your images from the first day. Please bring your portfolio or previous food photos if you want them to be analyzed by him.
Q&A Session: Get all your burning questions about food photography answered by our very own Mark Floro.
Method of Learning
Face to face onsite classroom learning delivery.
Who should attend
Commercial photographers doing work for advertising and food packaging
Photographers planning to specialize in food photography
Amateur photographers and food stylists who want to broaden their skill set
Business owners, managers in the food industry
In-house staff of food establishments in charge of preparing displays, menus, and sales materials
Trainee and professional chefs
Culinary professionals
Food bloggers and writers
Food consultants
Foodies
Prerequisite
Participants should have basic knowledge in photography.
Requirements
Digital camera with manual exposure control, and preferably but not necessarily, with a PC socket for external flash
Lens that can fill the frame with a single entree on a regular-sized plate
Lots of memory cards, batteries and a battery charger
Tripod is highly recommended. (Lighting will be continuous light, not strobe. Definitely, long exposure will be needed. Tripod will prevent camera shake)
Computer with a program for viewing and selecting uploaded images (optional)
Benefits
Includes certificate of completion

Alumni discount

Enroll in our L2C (Learning to Certification) programs and get a globally recognized certificate. This course is part of:
Next Occurrence
Date

Nov 16 - 17 2023

Time

Includes lunch break and snack breaks.

9:00 am - 5:00 pm